Are you tired of the ballroom furniture arrangements where everything is shoved to the edges of the room?  I mean really, how often does one replicate "Dancing With The Stars" in their own living room?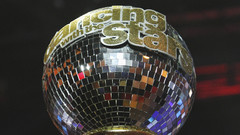 Photo via ABC.com
What is worse are the dining areas where the chairs are so close to the wall they scream, "Sit with caution."  You just know the host screams at the kids or spouse for scuffing the walls on a daily basis.
How people live and interact in a space comes way before selecting any of the fun fluffy pretty stuff.  Space planning is the one item interior designers dedicate a good portion of their efforts to.  In today's world this is also what separates the term designer and decorator.   (Always pick the designer who will put it on paper.)
Space planning isn't difficult, just involved but here is a little cheat sheet for the basics.
Tools Needed:
Measuring tape – I prefer 25 ft because it keeps you from starting over in most spaces.
Graph paper – 8 lines per square inch is the easiest to work with.  1″ = 1 square.  This allows you to draw a floorplan to scale which is amazingly different than our mental idea of what might fit in a room.  Download from Printablepaper.net
Pencil and big eraser
Calculator
Cheat Sheet of Basics for Clearance Spaces
traffic path – major  36″ – 42″
traffic path –  minor 18″ – 36″
space between sofa /chair and coffee table 14″ – 18″
minimum space between edge of dining table and wall 36″ (allows room for people to use the chairs)
traffic path around occupied dining chairs for serving 18″ – 24″
minimum 42″ between dining chairs and furniture with drawers or doors
Allow 22-24″ per place setting along a table or counter for eating
8′ to 10′ across is a comfortable diameter for a seated conversation area  (Large areas need multiple seating arrangements.)
TV viewing distance is TV size and type dependent, check The Home Cinema Guide for your unit.
Height of TV screen should be as near eye level as possible – NOT OVER THE FIREPLACE!
space in front of chest of drawers 36″
space to get in, out and make the bed 18″ – 24″
Putting a furniture lay-out to paper for the purpose of effective space planning is much easier than physically moving around a bunch of furniture to see if it works.  It is vital to space plan before any big furniture investment to make sure it fits before it gets delivered and the driver says, "sorry we don't take things back."  This happens more than you might imagine.  Using the Cheat Sheet of Basics will help you plan your living spaces to achieve a comfortable and livable result.