Ikat fabrics have been around for centuries.  Historically the technique called for resist dyeing fibers. Remember making tie-dye t-shirts in Brownies, where we knotted and rubber banded the shirts before dipping them into dye and the parts which didn't take the dye made the patterns?  Next the fibers are woven creating the signature watery or blurred patterned fabrics.  These fabrics came from various locations around the world, South America, Middle East, Eastern Europe and more.
Let the weaving begin…Via Loomography
Even my cat, Vanity,  likes to sit on a Brunschwig & Fils ikat, "It goes with my eyes."
What was once considered tribal is now hip and chic found on the runway as well as in the home.  Ikat fabrics are both immensely colorful or quietly subdued and the softness of the pattern makes them useful in many home interiors.  It's a pattern without being too crisp or formal.  They make great fillers or key fabrics.  Here are some exciting ways to use ikat in your home.
Lee Jofa Fabric Via Kravet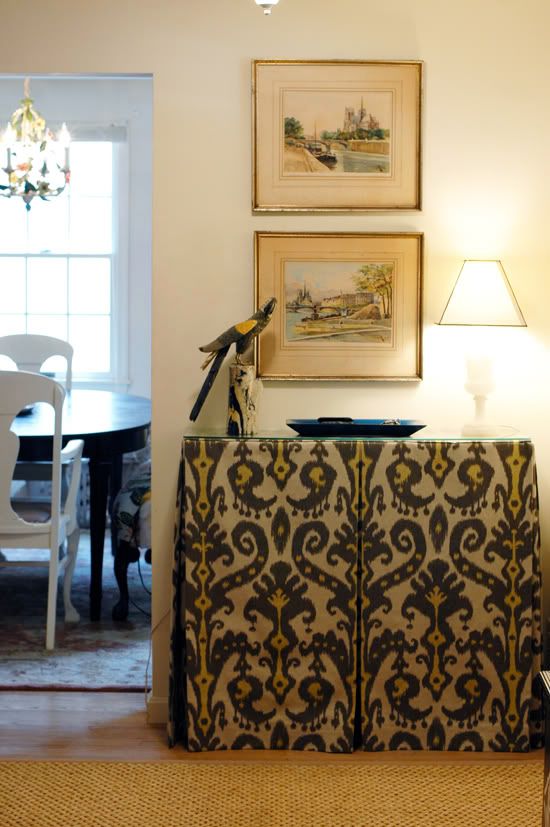 How about adding the fabric to a console for a quick interior improvement? Via Little Green Notebook
Madeline Weinrib has been making stunning examples of Ikat fabrics which show up in every design magazine year after year.  Interior designers flock too her for the latest bright colors and newest twist on the Ikat patterns.
Lastly here is my new favorite use for Ikat, a lampshade covered in Ikat Collection by Bermingham & Co.   While I've created customized lampshades for years in patterned and plain fabrics this really caught my eye.
What a great way to introduce an ikat fabric into a home.  This would be fabu in a tone on tone living room.  Not too much, not too skimpy and great for the commitment shy.  Talk about a statement.  An ikat lampshade is not something you would see house after house.  Love it.  There is an ikat for every home (with or without a real cat).