Today we are going to talk about the main furnishings, lighting and floorcovering for a dining room.  Lets jump right in with the most important piece, the table.
Photo via Homes of the Rich
Dining Table Size – Select table size according to the the typical number of guests you seat when entertaining.  This is usually 6 or 8 and many who entertain agree this is the perfect size for good conversation.  It is not necessary to buy a table for the two times a year you seat fourteen.
Dining Table Shape – Shelter magazines and catalogs are full of the large round or square tables which are great until one tries to use them.  They do not fit in a typical rectangle shaped room especially if you have a buffet or other furniture.
Let room shape dictate the general table shape.
If you have to have round buy a smaller round which can extend to an oval for seating more than six.
The larger the width of the table the more difficult it is for conversation and passing food.
Leave at least 3′ between edge of table and wall or other furniture for chairs to move in and out.
Leave enough room for a comfortable amount of chairs around the table, no squishing in.  Nobody likes knees or arms touching.
Seating – Make it comfortable.  Upholstered seats with upholstered backs are the most comfortable dining chairs.  Benches without backs are an invitation to leave.  A good seat is so comfortable you have to force your guests to leave the table.  This is success.
Lighting – If you can't see it, you can't eat it.  Likewise, dining does not require lighting meant for surgical precision.   Dimmers.
Over table – Chandelier or pendants are best.  Ceiling cans will never allow the proper comfort or mood and they are like sitting at a conference table.  Remember we are trying to get away from work not be reminded of it.  *Note: chandelier is centered over the table which is not always the center of the room especially if you have a buffet or serving area.
Ambient – Wall sconces add magic, electric or candle power are perfect for this.  Small cans or picture lighting will also work.  These allow the perimeter of room to glow.
Photo by Stacey Brandford via Canadian House and Home
Floorcovering – If using an area rug it MUST be large enough for the chairs to remain on the rug when pulled out.  This translates to 3′ or more beyond the edge of the table on all sides.  Bare floors are perfectly acceptable too.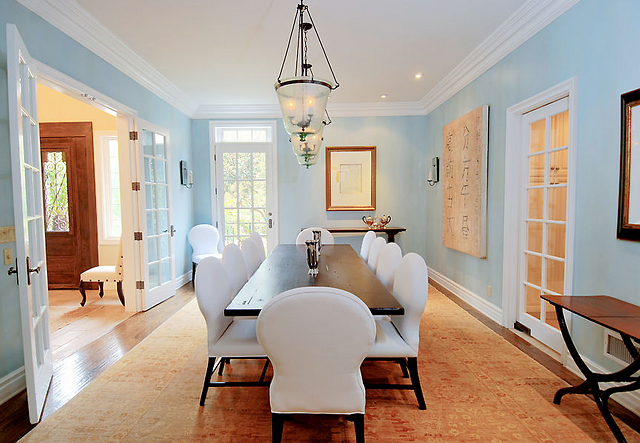 Photo via Home Bunch
Dining rooms can be a usable and enjoyable, in other words perfect.  The thing to remember is the table and the people around it are the most important part (focal point) of the room.  Everything else works to focus one's attention here.  The color scheme, furniture, lighting and flooring play a supporting role.  The perfect dining room is right in any home.
Dinner Party Planning Tip –Setting the table